I was thinking about Yvette Vickers just this past weekend.  Wondering how she was doing, what she was doing and why we never hear anything about her.  The following day we did hear something about her.  But it was not the story that we wanted to hear.  A neighbor who noticed yellowing letters in her mailbox and cobwebs around the door to her house forced the door open to find a terrible discovery.  The almost mummified body of what is believe to be Ms Vickers.  I was deeply saddened to hear that someone that I had admired for so long had to die such a lonely death.
Yvette Vedder was born in 1928 to Charles and Iola Vedder who were both Jazz Musicians.  Young Yvette sent a lot of her childhood days on the road with mom and dad.  Later on she enrolled at the Univeristy of California Los Angeles to take classes in journelism.  She later fell in love with acting and decided to add acting classes.
While taking acting classes she was discovered and appeared in several commericals for White Rain hair products.  She was living in New York at the time but decided to move back to California to have a better chance at breaking into acting full time.
Still using her birth name, Yvette Vedder, she landed a small uncredited role in a film called Sunset Blvd.  Her 4 year marriage to Don Prell can to an end in 1957.  It was this same year that she appeared in the Jame Cagney directed movie Short Cut To Hell.  The following year 1958 she starred as Honey Parker in the Sci-Fi classic Attack Of The 50 Foot Woman.  Later this same year she was in another film The Giant Leeches.
In July of 1959 Vickers appeared as the Playmate of the month in Playboy magazine.  The photo shoot was done by movie producer Russ Meyer.  Her pictures also appeared in several other  mens magazines and in several tv shows as well.  She married actro Leonard Burns only to divorce later that year.
The acting roles were few and far between for the remainder of her life. She had small parts in I, Mobster,  Pressure Point, Beach Party and Bikini Beach. Her last film role was in the the 1989 film Evil Spirits along side Karen Black, Arte Johnson and Michael Berryman.  She also had a successful carreer as a real estate sales woman.  She was also working on a biography of her life in recent years.
It really depresses me to think that a person who was so beautiful and talented spent the final years of her life living alone without a soul coming by to see her or take care of her needs.  The police said that she body could have been there a year rotting and decaying without anyone having a clue that she was dead.  Maybe that is the way she wanted to die, alone with no one around.  If I had known her it would not have been that way.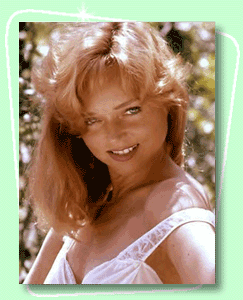 May you rest in peace lovely Ms Yvette Vickers. You star will shine on in my eyes forever.
James Downing